MY FIRST MORNING IN CALIFORNIA WINE COUNTRY, I woke up in the back of my truck to raindrops hitting my face. Apparently the racks on the roof of my Snugtop weren't completely sealed.
I was supposed to have been at a vineyard-pruning workshop at 7am, but the dark sky tricked me into oversleeping. It was already 9, and I'd missed the first workshop of the three-day Symposium for Professional Wine Writers at Meadowood, Napa Valley.
So I went for a mountain bike ride instead.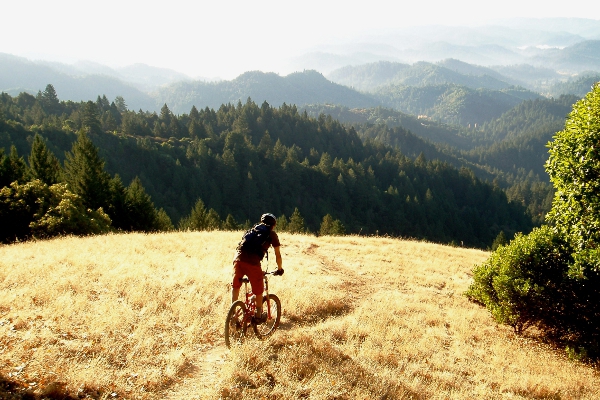 Photo: Author
When I turned up at the welcome reception later that afternoon, I stank of cold sweat, my hair was helmet-matted, and I was still wearing bike shorts under a pair of Levis.
Everyone else, including top industry writers like Karen MacNeil, Eric Asimov, Steven Spurrier, and Anthony Dias Blue, seemed to be more cognizant of the evening dress code: jackets for men and "wine country elegant" for the ladies.
But hey, I was a ski bum at the time, working as a contributing writer for the regional outdoor publication Mammoth Monthly and studying wine on the side.
I couldn't afford the $250 (special rate) room arranged by the Symposium, so I slept in the back of my truck at a campground a few miles away. From the resort, I borrowed an umbrella and took a complementary wine region map.
Each day after workshops, I went for a mountain bike ride — I pedaled unmarked single-track in Angwin and fire roads off Highway 29. Each night, I took a three-minute, barely-warm quarter-shower at the campground, slipped into formal attire, and returned to Meadowood for a five-course prix-fixe dinner in the ballroom.
I think I did alright.
Read the Full story on the Matador Network.